This post is sponsored by Bob's Red Mill . All opinions are my own.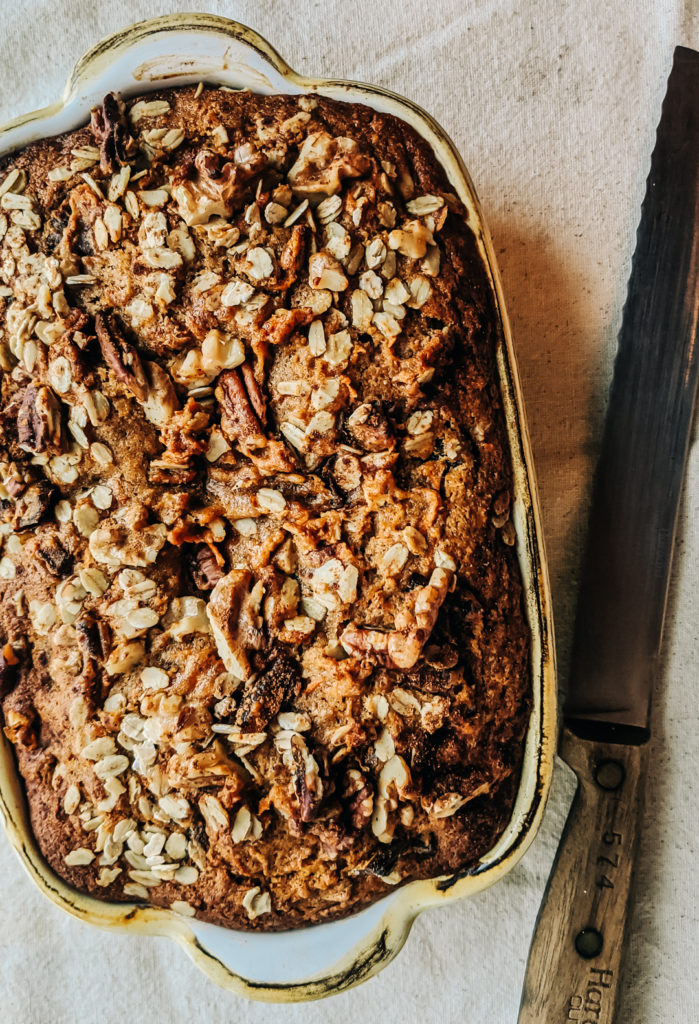 Spiced Carrot & Date Loaf
Prep Time: 10 minutes   
Cook Time: 55-60 minutes   
Serves: 1 loaf
2

eggs
2/3 cup walnut oil (or another neutral tasting oil)
3/4 cup honey
2 teaspoons pure vanilla extract
1 cup all purpose flour (Bob's Red Mill)

1/2 cups

whole wheat flour (Bob's Red Mill)
3/4 teaspoon baking soda

2 teaspoons

ground cinnamon

1 teaspoon

grated nutmeg
1/2 teaspoon sea salt

1 1/2 cups

freshly grated carrot

1 cup

dates, roughly chopped
1/4 cup walnuts, chopped
sprinkle of old fashioned oats (optional)
Preparation
Preheat oven to 350 degrees. Oil or butter a 9×5 inch loaf pan.
In a medium to large bowl, beat eggs. Add the oil and then drizzle in the honey and vanilla. In a separate bowl, whisk together flour, baking soda, cinnamon, nutmeg and sea salt. Add flour mixture to egg mixture and beat well. Add carrots and chopped dates. Pour batter into your prepared loaf pan. Sprinkle the top with the walnuts and oats.
Bake for 55-60 minutes or until a knife comes out clean when inserted in the center of the loaf. Remove from oven and cool on a cooling rack. Once cooled, remove from loaf pan and enjoy!
Notes